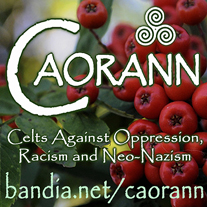 I support CAORANN.
Well, after three weeks of silence, I get a message from the UU Pagan group's organizer about a decision they reached about me, my actions, and the issue...at a meeting they knew I wouldn't be at. The conversation isn't done, but I want to post what I have so far have collected so I can show it to the Reverend of the UU church (reasons will be given at the end.)
This is the continuation of the discussions from
this blog entry
and
this blog entry
. (Actually,
probably this one too
from way ago.) As I mentioned on the last post, I'm not blocking out my name, nor am I blocking out EarthSoul's name, but I will continue to block out others' names since I do not know how public they are about their spiritual beliefs.
Moving along...
In truth, I had a pretty good suspicion at what he meant by "name calling." He meant when I called EarthSoul a racist. But I wanted to make sure that is what he was referring to first:
(Something I didn't address is that the "argument" is almost mostly decided already: ask the people from the culture you revere. That is the crux of avoiding racism and specifically cultural appropriation.)
Links included in the screen caption:
And to avoid further confrontation on the matter, R didn't respond to my points:
[EDIT
Also, I need to write up a post about how frustrated I am that I am being indirectly accused of not supporting religions that I disagree with. To be clear: I do
not
want to coexist with religions or people who are oppressive, racist, sexist, ableist, and/or harmful in any other way. I share a house with a Jewish family, my boyfriend is a secular pantheist, my mother is Catholic, my father is agnostic, and many of the bloggers I talk to have diverse religions under the pagan umbrella such as Kemetic or Otherfaith. I do not keep company with people who support cultural appropriation such as shamanism, nor do I support transmisogynic religions such as Dianic Wicca, nor do I support religions that involve pedophilia and rape like The Frosts' School of Wicca (which is different from Gardner Wicca, by the by.)]